2023 Arrival Information
Updated July 9, 2023 at 11:00 AM
For last minute changes, check our Facebook page or call 888-946-8495.
FOR CAMPERS
Gates open at 7am Wednesday, July 12, 2023, weather permitting. Your safety is always our top priority. Please be patient as you enter the festival. There is plenty of space for everyone who bought camping tickets. Our trained volunteers are there to help get everyone in as quickly as possible. Camping ends at 5pm Sunday.

Food Bank Collection

: We are collecting non-perishable goods for the Community Action of Greene County. Their van will be parked across from VIP Check-In Tent throughout the weekend or you leave your donations with a VIP volunteer. We appreciate your generosity! For a list of acceptable items, please visit https://cagcny.org/ Thank you.
FOR DAY VISITORS
Gates open at

8AM Thursday, Friday, Saturday, and Sunday

. Park in day parking (free) and take the free shuttle to the ticket booth to get your wristband. You may purchase tickets prior to the festival or at the gate. Seniors must purchase our discounted ticket at the gate with ID. Come early; stay late! Day visitors must leave the festival and day parking lot within 1 hour after the last show ends. Last shuttle leaves grounds one hour after close of show each night.
FOR SUNDAY VISITORS
Benefit for Community Action of Greene County Food Bank
Gates open at 8AM. Music is from 11am-2pm. Family stage activities are from 9-10:30am. Food and merchandise vendors open to serve you. Entry fee is a donation of non-perishable pantry goods or cash which will be collected near the VIP Check-In Tent as you enter. All donations will go directly to the food bank. Please be generous. Families in the area need our support and compassion. For a list of acceptable items, please visit https://cagcny.org/
PRE-FESTIVAL CAMPING AND PARKING
CAMPING PRIOR TO GREY FOX ($)
For the week prior to Grey Fox, many attendees camp and pick at The Foxhole, 1034 Allen Teator Rd, Preston Hollow, NY, about 4 miles from the festival. This is not an official part of the festival.
FREE OVERNIGHT PARKING TUESDAY
Overnight on Tuesday, there are two free overnight parking locations 1.5 mi from festival entrance: (1)

The Milk Run

(Convenience Store, Truck Stop, Diner w gas & diesel). 3498 NY-145, East Durham, NY and (2)

Durham Town Barns

, 7309 SR-81 at the intersection of SR-81 & CT-27.
OTHER MILK RUN SERVICES
Coming a long way and need to fill your water tank? Campers are welcome to

fill up your tanks FREE

. Use the spigots marked "potable" on the west side of the building. They also have a

new pump-out station

. Pump-out fee is $10. They plan to have

block ice

, goodies, and

other supplies

! How convenient is that?
2023 ARRIVAL PROCEDURES
per Durham Police Department
As always, the Durham Police Department (DPD) handles all traffic control prior to our opening and during entry on Wednesday. Please follow all procedures below per DPD, whose goal is the safe, orderly, and efficient arrival of everyone.
2023 DETOUR FOR THOSE USING RT 81 WESTBOUND TO GET TO GREY FOX
NY-81 is closed just prior to Oak Hill due to bridge replacement.

As you approach the construction area, follow the detour signs sending you left on CR-27

. Continue on CR-27 approximately 1 mile to the stop sign at NY-145. Turn right onto NY-145 west for ½ mile and take a right onto Clay Hill Rd. Follow Clay Hill Rd for ¾ mile to CR-22. Turn left on CR-22 and the Grey Fox entrance will be on your right (just over the bridge).
NO LINING UP BEFORE 5AM WEDNESDAY
Lining up along of any roads before 5AM is prohibited, per DPD.
NEVER EVER line up, park, or stand on NY-145 or NY-81, per DPD.
Thank you so much for your patience and adherence to these regulations. We can't wait to see your happy faces. May this be another year of Music, Magic, and Memories!
***************************************************************************************
CAMPERS' ENTRY INSTRUCTIONS for
Wednesday Morning Opening (aka Rodeo)
Camping gates are set to open at 7am Wed, July 12 weather permitting. Please read the following instructions, intended to make everyone's entry speedy. By checking these items off your list, you'll be helping yourself and everyone else.
Make sure you have this year's tickets, with 2023 dates.
Please bring printed tickets as we are in a remote area with limited cell service.
Once onsite, volunteers will direct you to lineup.
Please remain in your vehicle. Volunteers will come to you to exchange your tickets for wristbands/vehicle stickers (which must be worn/displayed at all times).
Do not walk up to the ticket booth unless a volunteer instructs you to do so.
If you need to upgrade your vehicle pass, volunteers will assist you at your vehicle.
Cash is the quickest, especially during the Wednesday morning "Rodeo."
You'll be given a program book, and you will find a detailed map on pp. 8-9. The map is also online under INFO.
Thank you in advance for coming to Grey Fox and for helping to speed things along.
DAY VISITORS' PARKING & ENTRY: 
Open 8:00 am Daily Thursday-Sunday
Shuttle Bus runs 10am daily until 1 hour after the end of last show.
Be sure you bring

2023

tickets. Printed tickets are preferred.
Park in the Day Parking Lot (It's free!). Main Lot is across CR 22 from the festival entrance. Overflow Lot is 1/4 mile past Lot 1, on the right.
A sticker for the day will be placed on your car.
Either walk or take the free shuttle to the

festival ticket booth

.

At the Ticket Booth, exchange your ticket for a wristband

.
You may then reboard the shuttle bus or walk to concert areas.

Special instructions for handicapped patrons

: Handicapped parking and transport are available on site. Drive up to ticket booth where volunteers will take care of you and direct you to HC Parking/Camping. HC transport number will be printed in the program book. For your convenience, a shuttle bus stop is directly across from HC Parking & Camping Area.
Day visitors must leave festival and day parking lot within

one hour after final show

.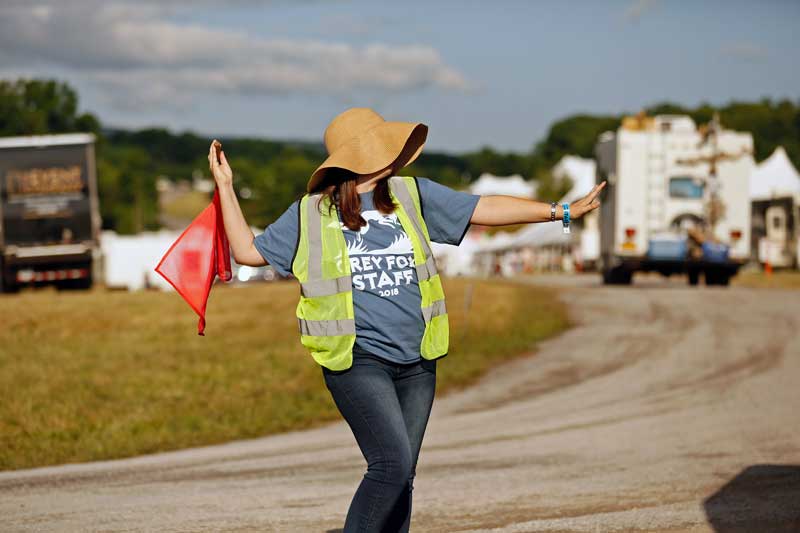 Free Day Parking & Shuttle
Thursday July 13 thru Sunday July 16, 2023.
Shuttle Bus runs 10 AM daily until 1 hour after close of each day's show.
Main Day Parking Lot is located on CR 22 directly across from festival entrance. Overflow Parking is 1/4 mile down the road. FREE SHUTTLE BUS circulates daily from day parking to ticket booth and around grounds.
Day Passes do not include camping. Camping is not permitted in Day Parking.