Grey Fox Bluegrass Festival Returns to Oak Hill, NY with The Infamous Stringdusters, Sam Bush, Del McCoury, Jerry Douglas and More
For immediate release: March 15, 2023
Download PDF of this release
Contact: Mary Burdette
Grey Fox Bluegrass Festival will fill the hills with world-class bluegrass, newgrass, dance and roots music on July 12-16, 2023, in Oak Hill, NY. The long-revered festival has been on the Walsh Farm since July 2009, after moving from its original home in Ancramdale, NY where it had been located since 1985.
Fourteen-time Grammy winner, Jerry Douglas returns as this year's Artist-in-Residence. In that role, Douglas will make surprise appearances throughout the weekend with various artists, plus perform with The Jerry Douglas Band on Friday. The festival's star-studded lineup is topped by The Infamous Stringdusters, Sam Bush, Del McCoury Band, John Cowan & The Newgrass All Stars, Sierra Hull, KellerGrass featuring The HillBenders, Steep Canyon Rangers, Della Mae, Alison Brown, The Travelin' McCourys, Natalie MacMaster & Donnell Leahy, The Seldom Scene, Scythian, and more.
In addition to fan favorites who return regularly to the festival, several artists will be making their debuts at Grey Fox. They are The Henhouse Prowlers, Jake Blount, AJ Lee & Blue Summit, Tray Wellington Band, Armchair Boogie, and Chicken Wire Empire plus some yet to be announced.
Known far and wide for its eclectic mix of musical styles and genres, Grey Fox boasts 40-some bands on six stages, with performances, dances, workshops, instruction, and demonstrations of all types. Fans come from dozens of states and around the globe for the stellar shows, laid back camping, campsite jams that run into the wee hours, and the good-time vibe known as The Grey Fox Way. Festive foods and well-chosen mercantile are all part of the scene. Foodies, bring your appetites. Fresh ethnic and summer favorites are served up by a wide range of vendors from around the Northeast. Likewise, curated merchants tempt visitors with everything from custom-built stringed instruments and artists' recordings to clothing, jewelry, naturals, and chair massages.
Always family-friendly, Grey Fox provides activities for every generation–from toddlers and teens to young couples and seniors. This year marks the 24th annual Grey Fox Bluegrass Academy for Kids — a free four-day program held onsite for budding musicians, age 8-17. Students study fiddle, guitar, banjo, mandolin, cello, bass, and harmony singing. Their "Big Gig" is Sunday afternoon to the delight of family, friends, and fans. Meanwhile kids of all ages head to the Family Stage each day for crafts, dances, sing-alongs, movies, puppets, magic, and more.
The High Meadow Day and Night Stages are where to see stars like National Endowment for the Arts Fellow Del McCoury. The Del McCoury Band is a nine-time IBMA Entertainer of the Year, two-time Grammy winner, and member of the Grand Old Opry in Nashville. Also headlining is the progressive acoustic/bluegrass band, The Infamous Stringdusters. With over a dozen albums and a Grammy to their credit, the "Dusters" have been touring the world, gathering legions of loyal fans with their high energy signature sound, and creating timely new material. Sam Bush, known as the Father of Newgrass, will appear on Saturday. Bush is an AMA Lifetime Achievement Award recipient, a Grammy winner, and member of the International Bluegrass Hall of Fame. His latest recording project is a tribute to the great John Hartford.
Also appearing at Grey Fox 2023 is Cape Breton's most celebrated fiddler, Natalie MacMaster, who has toured with the Chieftains, Faith Hill, Carlos Santana, and Alison Krauss, and recorded with Yo-Yo Ma. She will be performing with her husband and fiddle master, Donnell Leahy. The Steep Canyon Rangers, who gained fame while touring with comedian, actor, and musician Steve Martin, will close out the night on Thursday. Such is the tip of the musical iceberg at the main stages.
Around the festival, new pickers can learn to jam at the Slow Jam Tent. Traditional dance instruction takes place at the Catskill Stage, as do popular morning yoga sessions. Later at the Catskill Stage 'til well past midnight, it's everybody on the dance floor for some of the best bands in the business—this year featuring Scythian, The Travelin' McCourys, Keller Williams, Alison Brown, Della Mae, Steep Canyon Rangers, etc. Meanwhile, the Grassroots Stage is where to learn new chops on your instrument of choice, join in a harmony workshop, or ask questions of the artists.
The more intimate Creekside stage, which is tented and seated, hosts several artists all weekend long: Artists like the festival's forever-host-band, Dry Branch Fire Squad; Dan Tyminski (the voice of George Clooney in "O Brother Where Art Thou"); solo old-time musician, Joe Newberry; and a real joy of Grey Fox: its Emerging Artist Showcase featuring hot, new, up-and-coming bands from around the country: Fog Holler (Portland, OR),  On The Trail (New England), Pictrola (Falls Church, VA), Poor Monroe (New England), Wicked Sycamore (Baltimore, MD), and several recent graduates of the Berklee American Roots program (Boston, MA).
Come for the day or weekend. Camping (included in the price of a full-festival ticket) begins at 7am, Wednesday, July 12 and runs thru 5pm, Sunday, July 16. Early campers enjoy a fun-filled open mic from 7-10pm Wednesday. Day ticket gates open Thursday, July 13 at 8am. Stage performances begin Thursday, at noon. Day tickets include free day parking and free shuttle bus around the grounds. Electric hookups for RVs and comfy Epic Glamping in the High Meadow are still available at this writing.
Grey Fox Bluegrass is located at 1 Poultney Road, Oak, Hill, NY, nestled on the Walsh Farm in the Great Northern Catskills. Albany (45 min), NYC (3 hr), Boston (4 hr), Montreal (4 hr), Buffalo (4.5 hr), Baltimore (5 hr).
TIX & INFO: https://seo9.serpcom.com/greyfoxbluegrass; US: 888.946.8495; INT'L: 315-404-5738; [email protected]
##
Artists by Day of Appearance:
Thursday, July 13, 2023 / Music Noon to After Midnight.
Host band, Dry Branch Fire Squad
Artist-in-Residence, Jerry Douglas
Steep Canyon Rangers
Dan Tyminski Band
Natalie MacMaster and Donnell Leahy
Jake Blount
Stillhouse Junkies
Armchair Boogie
Sythian
Jim Gaudet and the Railroad Boys
Quickstep Dance Band w/John Kirk and Trish Miller
2023 Emerging Artists:
Berklee American Roots Program Graduates
Wicked Sycamore
Friday, July 14, 2023 / Music 11am to After Midnight.
Host band, Dry Branch Fire Squad
Artist-in-Residence, Jerry Douglas
The Infamous Stringdusters
Del McCoury Band
The Jerry Douglas Band
The Travelin' McCourys
The Seldom Scene
Della Mae
Alison Brown
AJ Lee and Blue Highway
Damn Tall Buildings
The Dirty Grass Players
Chicken Wire Empire
Quickstep Dance Band w/John Kirk and Trish Miller
2023 Emerging Artists:
Fog Holler
On the Trail 
Saturday, July 15, 2023 / Music 11am to After Midnight.
Host band, Dry Branch Fire Squad
Artist-in-Residence, Jerry Douglas
Sam Bush
Sierra Hull
John Cowan and the Newgrass All Stars
KellerGrass ft. The HillBenders
AJ Lee and Blue Highway
Joe Newberry
The Henhouse Prowlers
Mr. Sun
Tray Wellington Band
Quickstep Dance Band w/John Kirk and Trish Miller
More TBA
2023 Emerging Artists:
Pictrola
Poor Monroe 
Sunday, July 16 / Music 10:30am-2pm
Host band, Dry Branch Fire Squad
Artist-in-Residence Jerry Douglas
Dry Branch Fire Squad Gospel Show
Joe Newberry
Grey Fox Bluegrass Academy for Kids
Contact: Mary Burdette
Assistant Director, Grey Fox Bluegrass Festival
For high res images, interviews, information, send request to
Click for artist bios, videos, links, photos.
##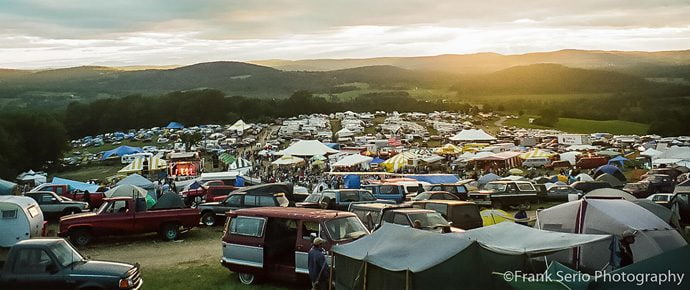 While the lineup brings people to Grey Fox, it's the feeling of togetherness that keeps the audience coming back year after year. Read More Source: Grey Fox Bluegrass Festival: the music that fills the hills | Bluegrass...
read more