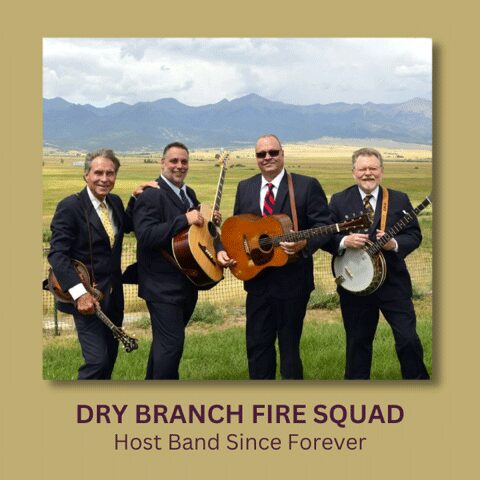 Dry Branch Fire Squad has been the host band of Grey Fox Bluegrass Music Festival for forever, and we wouldn't have it any other way. Ron Thomason's grand storytelling between songs mesmerizes long time fans and newcomers alike each and every time. And the band's repertoire harkens to the early days of bluegrass and old time music. Unique is the word that comes to mind whenever this band, based in Colorado, is mentioned.
One of the most important characteristics for any band is to have a sense of commonality and this abounds among the members of Dry Branch Fire Squad. All of the guys in the band have strong work ethics, varied interests, close ties to their families, success in professional endeavors outside of the field of music, nearly boundless energy and enthusiasm as well as a variety of musical experiences. Each is blessed with a strong personality:
BRIAN ALDRIDGE is a master at creating exciting harmony lines that give expression to the soulfulness and meaning of bluegrass and old-time music. He also has a knack for finding just the right runs that give body to the band's lyrics with his guitar and mandolin. His father was the great banjoist, Howard Aldridge and Brian got steeped early on by the music of folks like Bill Monroe, Sid Campbell, and Frank Wakefield who came to his house to play music with his dad.  While still young, Brian became a respected figure in the traditional bluegrass music scene of Ohio. This is his third "tour of duty" with DBFS, and we are all glad to have him back.
TOM BOYD started singing in church with his parents and never stopped, although he did eventually fledge. He still sings with Mom and Dad whenever he visits them and Tom flatly states that Dad can still sing higher— and that's a feat indeed Tom sings all the parts,. In DBFS , he is best known for his high baritone though he sings tenor just as often. He is  a banjoist extraordinaire and Dobro player who has performed over the last forty years with the likes of Larry Sparks, The Allen Brothers, Mac Wiseman, Hylo Brown, Jack Casey and many others. Tom has recorded with not only those folks but also Chubby Wise, Ricky Skaggs, and even was a stalwart on Ron Thomason's first solo album back in 1972.
JEFF BYRD brings the much appreciated skill that band members dream of in a band mate: He drives. Oh, sure, almost every road musician drives, but Jeff is a professional. John Duffey once said, "I don't charge for playing music; I charge for getting there." Well, with Jeff on-board, DBFS may even add to its stellar reputation for "getting there," having only missed one date in 40 years and that caused by a trip to the ER. Jeff has an impressive professional musical resume as a bass player who sings bass, baritone, and lead. He has performed and/or recorded with The King's Journeymen, Higher Ground, the Jennie Lynn Band and Jetts Creek along with stints with several other bands.
RON THOMASON started out as a child and never got over it. His early years above the Clinch River in Russell County, VA, were tied with all the succeeding ones for being the most enjoyable of his life. He has been able to make his living doing things he loves. His professional music career started at the age of 13, and since then he has played and/or recorded with The Clinch Mountain Boys, The Wilson Brothers, Joe Isaacs, R icky Skaggs and Keith Whitley, and a host of others.
In many ways, Ron is a renaissance man, having taught math and English at almost every secondary level, including college; farmed, trained and competed with horses, and played a vital role in the production of bluegrass music festivals and horse expositions; including the two great music festivals—Grey Fox and High Mountain Hay Fever—both of which DBFS proudly host. Hailing from the great state of Colorado, he enjoys such activities as horseback riding, mountain climbing, skiing, conservation advocacy, cowboying, and seeking out adventures in the wilderness. Ron still hopes to get some kind of book written about his experiences in bluegrass music and the many people he has met as a result. He founded DBFS in 1976 and is known to enjoy music-making more now than ever.