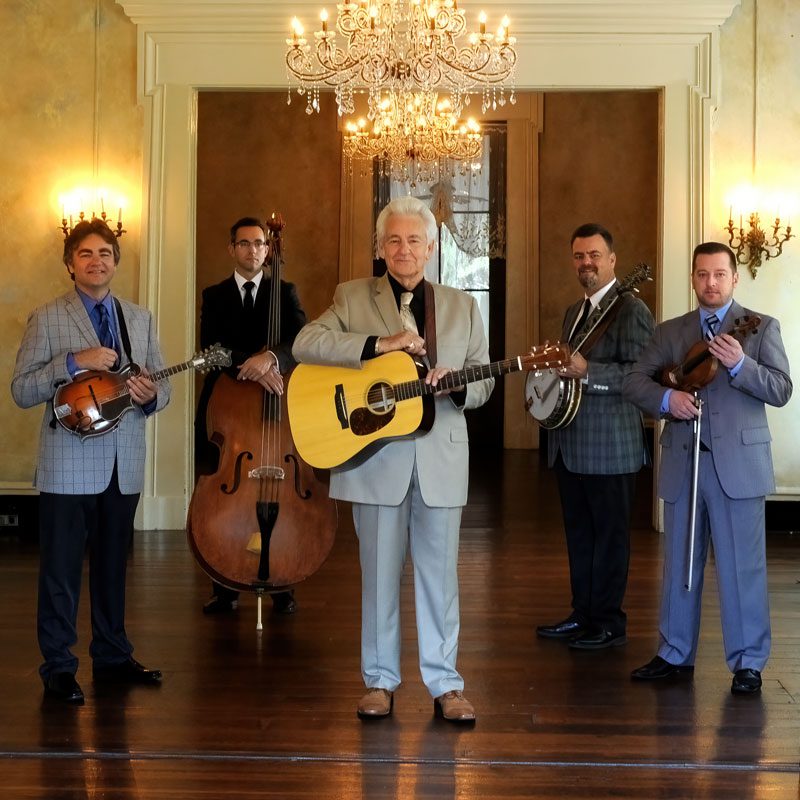 "I'm just doing what's natural," says Del. "When young musicians ask me what they should do I always tell them, 'You do whatever's inside of you. Do what you do best.'"
"I'm just a guy that likes to sing and play music. Whatever strikes me to do I'll do it. Without wrecking things."
Even among the pantheon of music's finest artists, Del McCoury stands alone. From the nascent sound of bluegrass that charmed hardscrabble hillbilly honkytonks, rural schoolhouse stages, and the crowning glory of the Grand Ole Opry to the present-day culture-buzz of viral videos and digital streams, Del is the living link, and we're thrilled to have him back at Grey Fox.
Emerging from humble beginnings in York County, PA nearly 80 years ago, Del was not the likeliest of candidates for legendary status. As a teen, he was captivated by the banjo playing of one of its masters, Earl Scruggs, and decided he'd be a banjo picker, too. The Baltimore/Washington, D.C. bar scene of the early 1960s was lively and rough. Del caught a break, an opportunity of a lifetime, joining Bill Monroe's Blue Grass Boys in early 1963. Considered the Father of Bluegrass, Monroe transformed McCoury, moving him from the banjo to guitar, anointing him lead singer, and providing him with a priceless trove of bluegrass tutelage direct from the source.
Leading the Del McCoury Band, with sons Ronnie and Rob, the ensemble continues to represent in a larger, growing musical community a peerless torchbearer for the entire sweep and scope of bluegrass history. Those many years, not to mention a good-natured willingness to stay alert to the latest sounds and opportunities around him, earned McCoury a whole new generation of fans, including some in unlikely places.
"I'm just doing what's natural," says Del. "When young musicians ask me what they should do I always tell them, 'You do whatever's inside of you. Do what you do best.'"
No surprise that contemporary, bluegrass-bred stars sang his praises; marquee names like Vince Gill and Alison Krauss (who first met Del at a bluegrass festival when she subbed for his missing fiddler). Yet, here too was rocker Earle recording and touring with the group. Here was Phish jamming onstage with the boys. Here was the band on TV, or headlining rock clubs and college campuses; the can't-miss appearances at country and jazz festivals. There was Del.
Almost unimaginable, McCoury's sixth decade in a half-century of bluegrass bliss brings new triumphs, new collaborations, and new music. With but a single change in membership in 27 years, The Del McCoury Band shows unprecedented stability as well as garnering the respect and admiration of the industry for its unmistakable work: nine IBMA Entertainer of the Year trophies; in 2003, Del's awarded membership in the cast of the legendary Grand Ole Opry; the band's first Best Bluegrass Album Grammy award, in '05, followed by a second Grammy win in 2014, (with double-digit nominations).
On their latest release, "Del McCoury Still Sings Bluegrass," Del and the boys bring home another stellar collection of traditional bluegrass music. "What I like in a record is variety of moods, of tempos," Del says. "I consider myself traditional at heart, but I don't have any boundaries. I'm just a guy that likes to sing and play music. Whatever strikes me to do I'll do it. Without wrecking things."
One listen and it's clear as crystal. There is Del.